Add products by adding codes
Enter the product codes that you want to add to the basket in bulk (after a comma, with a space or from a new line). Repeating the code many times will add this item as many times as it appears.
Automatyczny powrót do bazy i ładowanie
Tak
Robot Vactronic SR7 + Stacja V1-01
Robot sprzątający ze stacją przeznaczony do instalacji centralnego odkurzania ze standardowymi gniazdami ssącymi, do których podłączamy wąż ssący. Połączenie odbywa się za pomocą przyłącza elastycznego dołączonego do zestawu.
Robot sprzątający Vactronic do odkurzacza centralnego
Kompatybilny z każdym systemem centralnego odkurzania.

Nasz robot Vactronic automatycznie opróżnia się do Twojej instalacji centralnego odkurzania, więc możesz zapomnieć o sprzątaniu na wiele miesięcy.
Możesz ustawić harmonogram sprzątania tak, by robot odkurzał, gdy jesteś w pracy. 

Vactronic łączy ze sobą potężną siłę ssącą na poziomie aż do 2700 Pa, z bardzo wydajną baterią o pojemności 5200 mAh, która zapewnia do 2,5 godzin ciągłej pracy i sprzątanie powierzchni na jednym cyklu do 160 m².


Robot sprzątający Vactronic przeznaczony jest do systemu standardowego.

 
Automatyczne usuwanie zanieczyszczeń do instalacji centralnego odkurzania
Robot wracając do stacji automatycznie uruchamia jednostkę centralną, która wysysa wszystkie zabrudzenia. Dzięki takiemu rozwiązaniu, możesz korzystać ze wszystkich zalet odkurzacza centralnego!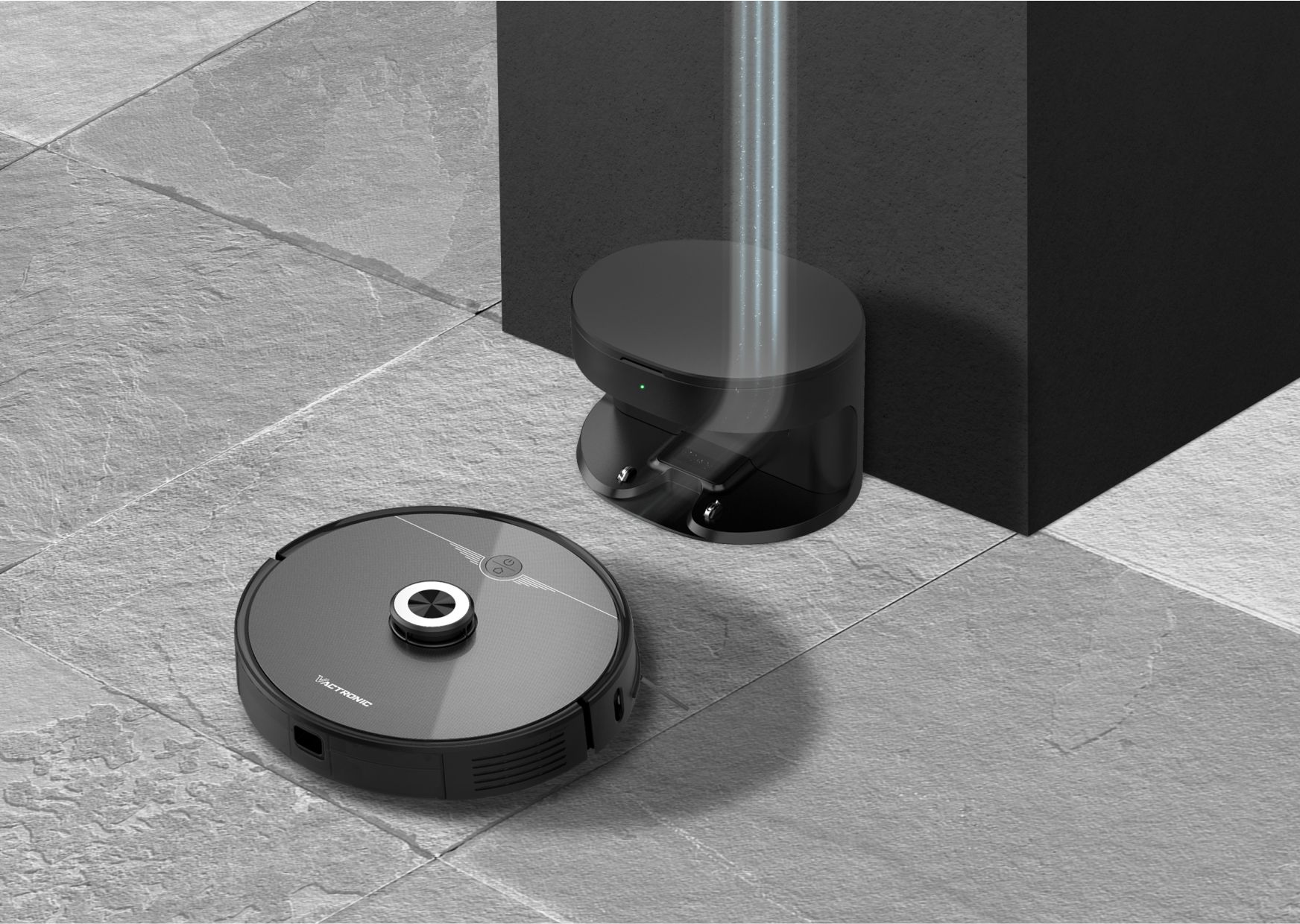 Zaawansowana nawigacja
Robot Vactronic tworzy dokładną mapę Twojego domu i udostępnia ją w aplikacji.
Dzięki naszej autorskiej technologii łączącej nawigację laserową i algorytm SLAM, nasz robot jeszcze lepiej i pewniej odnajduje się w otoczeniu.
Zdalne sterowanie

Sterowanie robotem Vactronic możliwe jest za pomocą aplikacji, pilota lub głosowo.
Najważniejsze cechy:
- Zapamiętywanie do 30 lokalizacji
- Czujniki antykolizyjne i czujnik upadku
- Sprzątanie bez zatrzymywania
- Urządzeniem można sterować za pomocą aplikacji, pilota lub głosowo
- Specjalnie zaprogramowana technologia sprawia, że po najechaniu robota na bazę zanieczyszczenia automatycznie wciągane są do jednostki centralnej.
- Automatyczne ładowanie

- Trzy tryby pracy
- Kompatybilna aplikacja
- Kontynuacja sprzątania w miejscu skończenia
Automatyczny powrót do bazy i ładowanie
aplikacja, pilot, głosowo
nawigacja laserowa i algorytm SLAM
antykolizyjny, krawędzi, odległości, przeciążenia, przeszkód, uskoku podłoża, zapełnienia pojemnika
automatyczny powrót do bazy, wirtualna ściana, programator pracy, automatyczne opróżnienie pojemnika, automatyczne wyłączenie, zasysanie próżniowe, zdalne sterowanie
Automatyczne opróżnianie pojemnika